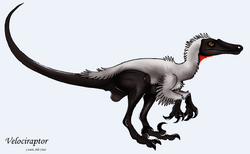 CAMILA ALLI CHAIR DID NOT GAVE HER PERMISSION FOR THE ADMIN TO USE THE ARTWORK
CAMILA ALLI CHAIR DID NOT GAVE HER PERMISSION FOR THE ADMIN TO USE THE ARTWORK
CAMILA ALLI CHAIR DID NOT GAVE HER PERMISSION FOR THE ADMIN TO USE THE ARTWORK
Velociraptor is the serial killer of the movie Jurassic Park. But Velociraptor was actually no bigger than a turkey. But this dinosaur is not all-that-cute. Velociraptor had a nasty claw on its toe that can gut you, bleed you to death, and cut your windpipe, and a mouth full of serrated teeth that point backwards. When you are bitten by an animal with teeth that point backwards, it's going to rip a chunk of you out. We know how raptors used this claw because of an amazing fossil involving a Velociraptor and a Protoceratops in a fight to the death.
Ad blocker interference detected!
Wikia is a free-to-use site that makes money from advertising. We have a modified experience for viewers using ad blockers

Wikia is not accessible if you've made further modifications. Remove the custom ad blocker rule(s) and the page will load as expected.