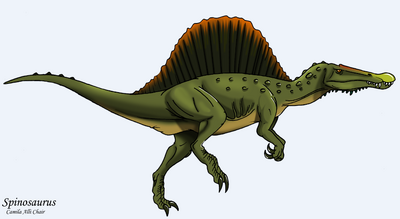 THE ARTIST DID NOT GAVE HER PERMISSION FOR THE ADMIN TO USE THE ARTWORK
THE ARTIST DID NOT GAVE HER PERMISSION FOR THE ADMIN TO USE THE ARTWORK
THE ARTIST DID NOT GAVE HER PERMISSION FOR THE ADMIN TO USE THE ARTWORK
Spinosaurus is the biggest land predator ever. It could grow to a length of 60 feet (18m) long, be 25 feet high, and weigh 9 tons! Spinosaurus lived in the same area as the dominant land predator Charcharodontosaurus and during times of drought may have fought over carcasses, the fight of a century!
Spinosaurus was mostly piscivorous, it ate fish and one of it's favourites was the giant sawfish Onchopristis. (A car sized Sawfish)
But the Diet of the Spinosaurus is varied; it its well known Spinosauroids will eat any source of meat
Ad blocker interference detected!
Wikia is a free-to-use site that makes money from advertising. We have a modified experience for viewers using ad blockers

Wikia is not accessible if you've made further modifications. Remove the custom ad blocker rule(s) and the page will load as expected.