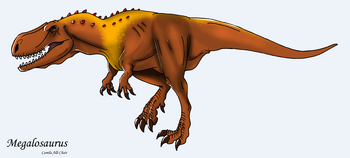 THE ARTIST DID NOT GAVE HER PERMISSION FOR THE ADMIN TO USE THE ARTWORK
In 1824, something exciting happened in the world of paleontology. The world's first dinosaur was named. The dinosaur was called Megalosaurus. Megalosaurus was basically the T-rex of England, so this dinosaur was not hunting tea. This dinosaur was so ferocious, it was eating some of the biggest animals the world has ever seen, Megalosaurus was killing sauropods, like the huge Cetiosaurus. Cetiosaurus was a massive animal for its time, growing to a length of 53 feet long and weighing in at about 24 tons. Megalosaurus only grew to a length of 30 feet long and weighed 1 ton, so I think, to kill a Cetiosaurus, Megalosaurus was hunting in packs. To equal the muscle strength of 1 Cetiosaurus, it would take 24 Megalosaurus to take down a Cetiosaurus. That amount of Megalosaurus against you will just tear you apart.
Ad blocker interference detected!
Wikia is a free-to-use site that makes money from advertising. We have a modified experience for viewers using ad blockers

Wikia is not accessible if you've made further modifications. Remove the custom ad blocker rule(s) and the page will load as expected.