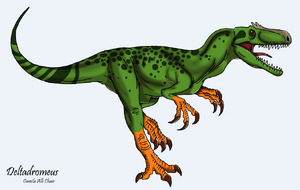 CAMILA ALLI CHAIR DID NOT GAVE HER PERMISSION FOR THE ADMIN TO USE THE ARTWORK
CAMILA ALLI CHAIR DID NOT GAVE HER PERMISSION FOR THE ADMIN TO USE THE ARTWORK
CAMILA ALLI CHAIR DID NOT GAVE HER PERMISSION FOR THE ADMIN TO USE THE ARTWORK
Deltadromeus was a dinosaur in the same family as Ceratosaurus. Like Ceratosaurus, Deltadromeus lived alongside Allosaurs. But these Allosaurs were more sophisticated. They were called Carcharodontosaurs. The first member of this family found was called, well, Carcharodontosaurus. That's exactly who Deltadromeus lived alongside. Carcharodontosaurus and Deltadromeus were likely doing the same thing Allosaurus and Ceratosaurus were doing 150 million years ago and I'm talking about competing with each other.
It was one of the most advanced creatures of its time. Due to this, if Carcharodontosaurus never lived, Deltadromeus would have its chance.
Ad blocker interference detected!
Wikia is a free-to-use site that makes money from advertising. We have a modified experience for viewers using ad blockers

Wikia is not accessible if you've made further modifications. Remove the custom ad blocker rule(s) and the page will load as expected.