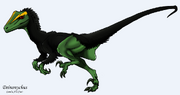 THE ARTIST DID NOT GAVE HER PERMISSION FOR THE ADMIN TO USE THE ARTWORK
you think street gangs are bad news, think about a gang with members that have sickle-shaped claws on their toes and sharp, serrated teeth. I'm talking about Deinonychus. Deinonychus was the raptor that is the closest match to the Velociraptors in Jurassic Park. We know Deinonychus hunted in packs because of an amazing discovery in Montana. In 1969, John Ostrom uncovered 4 skeletons of Deinonychus, all crushed, laying near a hebivore called Tenontosaurus. We know they didn't just die together because surrounding the Tenontosaurus were teeth of the remaining Deinonychus. This means there were more than 4 Deinonychus in this hunt. This discovery proved meat-eating dinosaurs hunted in packs.
Ad blocker interference detected!
Wikia is a free-to-use site that makes money from advertising. We have a modified experience for viewers using ad blockers

Wikia is not accessible if you've made further modifications. Remove the custom ad blocker rule(s) and the page will load as expected.