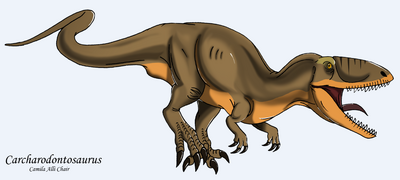 CAMILA ALLI CHAIR DID NOT GAVE HER PERMISSION FOR THE ADMIN TO USE THE ARTWORK
CAMILA ALLI CHAIR DID NOT GAVE HER PERMISSION FOR THE ADMIN TO USE THE ARTWORK
CAMILA ALLI CHAIR DID NOT GAVE HER PERMISSION FOR THE ADMIN TO USE THE ARTWORK
Carcharodontosaurus is not as famous as T-rex and it didn't have the jaw strength. But like T-rex, it still was built for heavy duty power. Along with Spinosaurus, it was the 2nd largest theropod discovered. In WW2, the original fossil was destroyed and lost forever when a museum was bombed. But the good news is Ernst Stromer wrote Carcharodontosaurus down. A recent discovery in 1995 showed Carcharodontosaurus had a head the size of a man. Carcharodontosaurus likely used these jaws to kill a giant sauropod called Paralititan.
Ad blocker interference detected!
Wikia is a free-to-use site that makes money from advertising. We have a modified experience for viewers using ad blockers

Wikia is not accessible if you've made further modifications. Remove the custom ad blocker rule(s) and the page will load as expected.