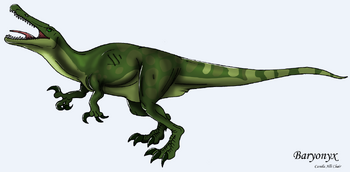 CAMILA ALLI CHAIR DID NOT GAVE HER PERMISSION FOR THE ADMIN TO USE THE ARTWORK
CAMILA ALLI CHAIR DID NOT GAVE HER PERMISSION FOR THE ADMIN TO USE THE ARTWORK
CAMILA ALLI CHAIR DID NOT GAVE HER PERMISSION FOR THE ADMIN TO USE THE ARTWORK
In 1983, William Walker found a large claw sticking out of the Smokejacks Pit. In 1986, they named the animal Baryonyx. Baryonyx was one of the few dinosaurs that we know ate fish. In the skeleton of the first complete Baryonyx, paleontologists found the remains of a prehistoric fish called Lepidotes. But it may have also eaten a large dinosaur called Iguanodon as well. Unlike Spinosaurus, Baryonyx had serrated teeth. Serrated teeth are usually a sign that meat-eating dinosaurs ate other dinosaurs. Plus, in the stomach of the Baryonyx, they found the remains of a baby Iguanodon.
Ad blocker interference detected!
Wikia is a free-to-use site that makes money from advertising. We have a modified experience for viewers using ad blockers

Wikia is not accessible if you've made further modifications. Remove the custom ad blocker rule(s) and the page will load as expected.