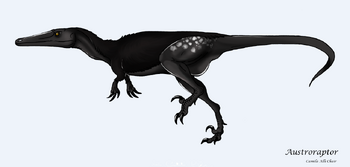 CAMILA ALLI CHAIR DID NOT GAVE HER PERMISSION FOR THE ADMIN TO USE THE ARTWORK
CAMILA ALLI CHAIR DID NOT GAVE HER PERMISSION FOR THE ADMIN TO USE THE ARTWORK
CAMILA ALLI CHAIR DID NOT GAVE HER PERMISSION FOR THE ADMIN TO USE THE ARTWORK
Austroraptor was a species of dromaeosaur that lived in Argentina 70 million years ago. It was the largest dromaeosaur to have lived in the Southern Hemisphere. Austroraptor was a unique dromaeosaur because it had short arms in comparison to its body like Tyrannosaurus. It also had conical, non-serrated teeth like Spinosaurus. It is possible that Austroraptor used these conical teeth to catch fish as well as kill sauropods. However, at the same time that Austroraptor was around, there were 2 other big predators in Argentina: Carnotaurus and Orkoraptor. I'll talk about Orkoraptor on my next page.
Ad blocker interference detected!
Wikia is a free-to-use site that makes money from advertising. We have a modified experience for viewers using ad blockers

Wikia is not accessible if you've made further modifications. Remove the custom ad blocker rule(s) and the page will load as expected.