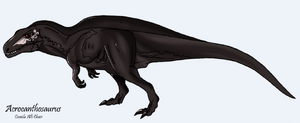 CAMILA ALLI CHAIR DID NOT GAVE HER PERMISSION FOR THE ADMIN TO USE THE ARTWORK
CAMILA ALLI CHAIR DID NOT GAVE HER PERMISSION FOR THE ADMIN TO USE THE ARTWORK
CAMILA ALLI CHAIR DID NOT GAVE HER PERMISSION FOR THE ADMIN TO USE THE ARTWORK
Acrocanthosaurus was a relative of Allosaurus, but with a spine running down from its neck all the way down to its tail. Nobody knows why that spine was there. It could have been there to help it warm up. But that theory does not really make sense, since the large dinosaurs would have been warm-blooded. Others say it was there to house more muscle. That theory makes more sense, because Acrocanthosaurus was hunting sauropods, and it takes a lot of muscle to take down a sauropod. Acrocanthosaurus was probably stalking its prey like a tiger, because paleontologists had once found the tracks of an Acrocanthosaurus behind the tracks of a sauropod called Paluxysaurus. The Acrocanthosaurus most likely made the kill at the end.
Ad blocker interference detected!
Wikia is a free-to-use site that makes money from advertising. We have a modified experience for viewers using ad blockers

Wikia is not accessible if you've made further modifications. Remove the custom ad blocker rule(s) and the page will load as expected.